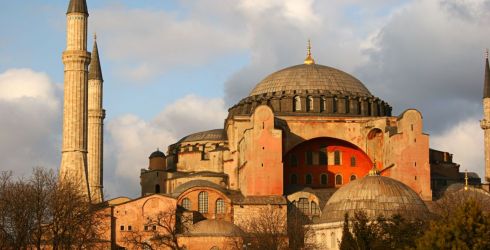 Are visions of the grandiose markets and delicious foods tempting you and some friends to make a visit to Turkey? Group Travel to Turkey is a great way to explore this amazing country, whether that's hanging out in the country's famous baths or swapping tips on haggling over a delicious meal and glass of wine. Straddling the continents of Asia and Europe, Turkey and its capital city of Istanbul are a swirl of culture, and visiting it with your best friends will be sure to be one of the memories of a lifetime.
Turkey Group Trips and Tours
Did you know that airlines, hotels, and other tourism providers can offer the organizer or host of a group complimentary travel or discounts on your trip? Depending on the size, you can definitely save by booking a group trip.
Turkey is a busy place and has so many different cultural attractions, it can be hard to choose what to include on a group itinerary. Be sure to avoid a "one size fits all" approach, because some people will want to try out a Turkish bath and some won't. Others will want to spend an hour or two in the bazaar, and others will want to spend all day. You want everyone to go home feeling like they had a good holiday, and a schedule that gives everyone some flexibility so that part of the time you're enjoying structured, scheduled group appointments and that part of the time, everyone's allowed some serendipity to go and find the things they'll enjoy the most.
Best of Turkey - 15 Days
The exotic land of Turkey served as a gateway between eastern and western cultures and contained some of the most famous locations of the ancient world. Visit the structures of some of the world's earliest civilized cultures including amphitheaters, temples and underground cities. Gain an understanding of the later Ottoman Empire through its mosques - spiritual symbols as well as places of great artistry. Sample modern day Turkish culture experienced through its bazaars and village life.
Highlights
Tour the Blue Mosque, a landmark of the Byzantine and Ottoman cultures
See the site where Alexander the Great cut the Gordion Knot
Explore the fairy chimneys and rock-carved churches of Cappadocia
Visit the pottery center of Avanos
Visit the Temple of Artemis
Explore Ephesus one of the world's finest archaeological sites
See the library containing 200,000 writings given to Cleopatra
Visit the legendary city of Troy
View the complete day to day Best of Turkey Itinerary.
Turkey - Istanbul & Cappadocia - 10 Days
Explore the land where east meets west on this 10 day trip to Istanbul and the unusual landscape of the Cappadocia region. Explore bustling markets filled with exotic wares, beautiful mosques full of decorative tiles, Oriental carpets and other treasures. Enjoy boat journeys gliding past lovely countryside views and skylines filled with mansions and palaces. Partake in traditional Turkish culture at a folk evening filled with the sights, sounds and tastes of the country.
Highlights
Tour the magnificent Blue Mosque
Shop the fabulous Grand Bazaar
Visit to the Egyptian Spice Market
Boat cruise between Europe and Asia viewing palaces, mansions and villas
Turkish Night experience of Turkish food, music and folk groups
Explore Derinkuyu, the underground city of Cappadocia
Visit the town of Avanos, famous for its earthenware pottery
View the complete day to day Turkey - Istanbul & Cappadocia Itinerary.