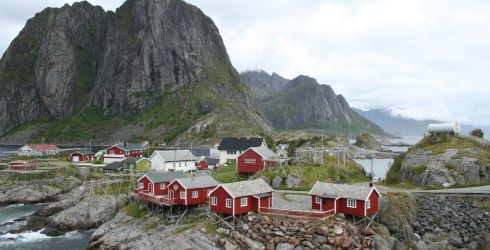 Planning a group trip to see the stunning countryside of Norway? Visiting this great Scandinavian country with a group is a fantastic way to spend time with the people you like. Watching Norway's breathtaking fjords and snow capped mountains unfold in front of you, or sharing a meal of fresh seafood in one of the many tiny fishing villages along the coast, is certainly a way to make memories that you'll never forget.
Norway Group Trips and Tours
As a group organizer, when you make plans for you and your friends to travel to Norway, you may be eligible for free or discount hotels and airfare just for bringing the group together. Groups can also get access to perks and discounts, so you can spend less time worrying about money and more time watching the dramatic landscape.
A common problem with group travel plans is an inflexible, "one size fits all" type of plan that doesn't take into account the varying needs of each individual in the group. Some travelers may want to go hiking or snowshoeing, while others may prefer a long train ride instead. A good itinerary gives everyone the time and space to do as they please, and then an opportunity for everyone to join back up later for a hot cocoa and to share with each other their experiences of the day. Balance is key to planning free time versus group time.
Discovering the Culture of Southern Norway - 5 Days
With the vast majority of Norway's population residing in its southern regions, it is no surprise that many of its best historic and cultural sights can also be found there. This itinerary was designed to show you a glimpse of Norway's past and present in just four nights. If your group has always dreamt of traveling to Norway, choose this itinerary for a relaxing, interesting dose of Nordic charm!
Highlights
Panoramic sightseeing tours of Helsinki, Turku and Tampere
Walking tour of Porvoo's medieval Old Town
Visit the "Church of the Rock"
See Turku's 13th-century castle
Tampere Cathedral