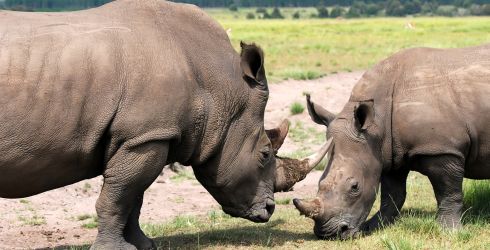 Thinking about a trip to Nairobi or Kenya with a group of family or friends? Visiting Kenya as a group is a great way to travel - whether on a safari or just exploring some of the country's amazing cultural attractions can be a lot of fun when with people that you already know and like. Plus you get quality time with the people important to you, all the while making the memories of a lifetime.
Kenya Group Trips and Tours
When visiting Kenya, if you are traveling as a group, travel suppliers like hotels and airlines may provide complementary arrangements to the group organizer, depending on the size of your group. As a group, you can also get additional perks or discounts, such as having your own guided safari tour, instead of having to share the guide's time with others.
When planning the trip, though, you'll want to be careful not to just have a "one size fits all" itinerary. The most enjoyable group trips are a balance between shared, memorable group experiences and opportunities for everyone to break up and do their own thing. Sometimes you want to just chill out on your own with a cup of coffee, and other times you might just have an interest in certain museums or attractions that no one else does. A good itinerary makes sure that everybody has time to do what they what - it is your vacation after all!
Kenya and Tanzania - 12 Days
Experience Tanzania's and Kenya's amazing landscapes and wildlife. Tree-climbing lions and hippos await at Lake Manyara National Park. World famous Serengeti National Park has the world's most famous collection of plains animals including wildebeests. Multiple game drives at various times of day allow visitors to see changes in animal behavior. A hot air balloon ride over the plains is a unique way to end the adventure.
Highlights
View flamingos and hippos in Manyara National Park
Glimpse tree climbing lions
Crater Tour in Ngorongo Conservation Area
Visit Serengeti National Park one of the largest wildlife sanctuaries in the world
Evening game drive at Maasai Mara National Reserve
Experience a hot air balloon safari
View the complete day to day Kenya and Tanzania Itinerary.
Kenya Wildlife Safari - 8 Days
Enjoy an once-in-a-lifetime opportunity to see the amazing wildlife of Kenya in one of its national parks and two nature reserves. Multiple game drives take you into deserts and grassland savannas to see remarkable animals such as elephants, giraffes, zebras and possibly rare glimpses of leopards or cheetahs.
Highlights
Participate in 7 wild game drives glimpsing a variety of wild animals
Scenic bush flight
Hot air balloon safari
View the complete day to day Kenya Wildlife Safari Itinerary.
Kenya and Tanzania with Zanzibar - 14 Days
Trade, spices and exotic animals are presented on this tour of Kenya, Tanzania and Zanzibar. Multiple opportunities exist to experience African wildlife, including rare species such as Grevy's Zebra and the Red Colobus Monkey, on visits to national parks and safari drives. Time to explore the exotic spice island of Zanzibar with its Stone Town and colorful markets.
Highlights
Marvel at flamingos and hippos in Manyara National Park
Serengeti National Park
Morning and evening game drives at Maasai Mara National Reserve
Panaromic Hot Air Balloon Safari
Guided tour of the historic Stone Town of Zanzibar
View the rare Red Colobus Monkey in Jozani National Forest
Zanzibar Spice Plantation Tour
View the complete day to day Kenya and Tanzania with Zanzibar Itinerary.