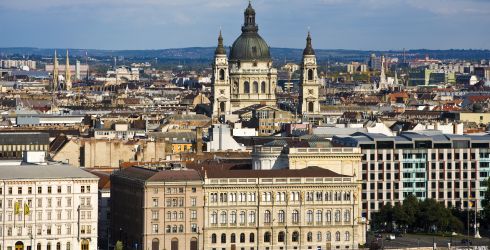 Thinking about a group trip to Budapest or elsewhere in Hungary? Did you know that groups of any size can take advantage of Hungary Group Travel discounts when touring the country? As well, if enough people are in the group, the group organizer can travel at a significant discount or sometimes even for free.
Hungary Group Trips and Tours
Group Travel plans to Hungary, or any country for that matter, need to be planned with foresight to avoid one of those "one size fits all" itineraries. Individuals should have plenty of time to independently explore museums, shops, and other sights that might appeal to their interests, while having a balance of group time to share their experiences and enjoy a good laugh. A good travel expert can ensure your itinerary has a healthy balance of both.
Finding the right travel professional that is the best to work on your Hungary Group Travel plans can be a frustrating search. Every group has with its own set of needs, desires, and potential issues, so working with an expert who has had not only firsthand experience getting groups to Hungary, but also knowledge around destinations in the country itself, is the best way to ensure your trip will be fantastic.
Eastern Europe - 17 Days
Discover the hidden gems of Eastern Europe on this in-depth tour of the highlights of the former Iron Curtain countries. Learn the history of this region from life in medieval and Gothic castles to the Warsaw Uprising through the Cold War. Stroll the Old Town heritage areas of Eastern Europe's main cities and visit serene parks. Eat at local traditional restaurants and bakeries, some of which have been in business for over 100 years.
Highlights
Walking tour of Prague including a visit to Prague Castle
Opera or Concert performance at Prague's State Opera House
Oil lamp tour of the Prague labyrinths
Guided tour of Warsaw Uprising Museum and John Paul II Collection
Chopin Concert at Lazienki Park
Tour of the Wielicka Salt Mine
Tour of the Romanian Peasant Museum and the Romanian Parliament
Visit Bulgaria's Boyana Church a UNESCO Heritage site
View the complete day to day Eastern Europe Itinerary.
The Best of Vienna, Budapest and Prague - 11 Days
While Vienna, Prague and Budapest have undoubtedly been influenced by their former Austrian Habsburg rulers, this Central European itinerary will show you that each is absolutely distinct and unique! Vienna oozes classical elegance and houses some of the best museums and classical music venues in Europe. Budapest, a true melting pot of Western and Eastern cultures, is undeniably charming and home to geothermal baths, beautiful architecture and amazing views of the Danube. Prague, with its timeless Old Town and ancient Castle District, possesses an ambience unlike anywhere else in the world. Spend a week and a half getting to know three of Europe's most beautiful capital cities.
Highlights
Tour Schonbrunn, the Habsburg's Winter Palace and a UNESCO World Heritage Site
Dinner in a traditional wine tavern in the Vienna Woods
Wachau Valley day trip featuring Melk Abbey and a Danube River Cruise
Free days at leisure in Budapest and Prague
Walking tours in Gyor, Hungary; Komarno, Slovakia; and Szentendre, Hungary
Inside visits to Hofburg Palace, Prague Castle, Buda Castle and Krivoklat Castle!
View the complete day to day The Best of Vienna, Budapest and Prague Itinerary.