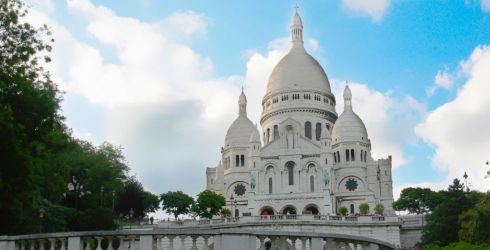 If you and several friends are considering a trip to France, Group Travel is a great way to travel. With France Group Trips and Tours, you can save money while making memories with friends that will last a lifetime.
France Group Trips and Tours
Here's a fact: groups can get access to France travel discounts if traveling together. Additionally, if you have enough people in the group, you can get big discounts or possibly even travel for free just for being the organizer.
It is not easy to create a trip itinerary that takes into account the needs of each individual traveler; however, a specific group travel plan built by an expert will offer you the balance of shared travel experiences as well as alone time to explore individual pursuits. So travelers can go off and see museums or sit on a terrace and relax alone, but still join in for group dinners and other fun events.
Choosing the travel professional who is just right to work with you on building out a France group travel itinerary is an important decision to make. You'll want someone who not only understands the unique needs of a group, but as well as firsthand experience with group travel to France in order to help you avoid pitfalls that often happen to group travelers.
France - Paris & Bruges - 7 Days
From the glamour of Paris, to the international significance of Brussels and the scenic canals of Bruges you will enjoy this journey to two of Europe's French speaking nations. In addition to exploring the landmarks of Paris, you will enjoy a special show at the famous Lido in Paris. Sophistication meets history on this journey.
Highlights
Evening Lido Dinner Show
Guided Tour of Versailles Palace & Gardens
Half-day guided tour to Monet's Giverny
Tour Ghent's medieval architecture
Half-day guided walking tour of Bruges
View the complete day to day Paris & Bruges Itinerary.
Nice, Monte Carlo, Cannes & Avignon - 9 Days
Revel in the glamour and glitz that is the French Riviera, Monaco and Cannes. Enjoy people watching opportunities at the seaside promenade in Nice and the casino at Monte Carlo, maybe you will spot a member of royalty or a celebrity during your explorations! The quality of light in this part of France attracted artists such as Matisse and Van Gogh and art remains a strong tradition in the area.
Highlights
Visit the Cathedral of Saint-Nicholas where Prince Rainier III married Grace Kelly
Feel like Bond during an excursion to Le Casino de Monte Carlo
Explore the home of the Cannes Film Festival
Enjoy the artist's village of Saint Paul
View the complete day to day Nice, Monte Carlo, Cannes & Avignon Itinerary.
Paris, Normandy, Brittany and the Loire Valley - 10 Days
Start your explorations in Paris visiting the city's iconic sites including the Eiffel Tower, the Arch de Triomphe and Notre Dame Cathedral. Continue to Normandy, a region associated with art, food and WWII. Imagine yourself as a member of the French aristocracy as you visit the Loire Valley dotted with magnificent chateaux. Return to Paris to explore fabulous Versailles and have a free day to explore the boutiques, boulangeries and patisseries.
Highlights
Tour of Paris highlights
Experience Giverny, the beautiful home of artist Claude Monet
Walking tour of medieval Rouen, site where Joan of Arc burned at the stake
Explore the harbor town of Honfleur, inspiration for many impressionist painters
View the famous tapestry of Bayeux
Honor D-Day by visiting the beaches, the Invasion Museum and the American Memorial
Visit atmospheric Mont St. Michel
Visit the chateaux of the Loire Valley
Explore the magnificent Palace of Versailles
View the complete day to day Paris, Normandy, Brittany and the Loire Valley Itinerary.
Loire Valley and Paris Garden Tour - 10 Days
The chateaux of the rich, powerful and royal dot the land of the Loire Valley. From magnificent architecture, to beautiful gardens and stained glass windows, each chateau has something to charm and delight visitors. Learn about the inhabitants who once dwelled in these mini castles in a society bound by complicated social rules and manners. A short distance away the City of Lights awaits with its elegant boulevards and shops. Nearby is the ultimate castle, the Palace of Versailles from which the Sun Kings radiated power upon the nation and at Giverny, Monet soaked up an environment that inspired him to create one of the most famous works of art the world has ever seen.
Highlights
Explore Chartres Cathedral famous for its medieval stained glass.
View the unique Pagoda of Chanteloup, whimsy of a French Duke
River cruise to view the Chateau Chenonceau
Wine tasting at Domaine du Croc due Merle
Visits to multiple chateaus and a two-night chateau stay
Inhale the scents of over 400 types of roses at Les Jardins de Roquelin
Visit to Monet's house at Giverny
Half-day tour of Palace of Versailles
View the complete day to day Loire Valley and Paris Garden Tour.