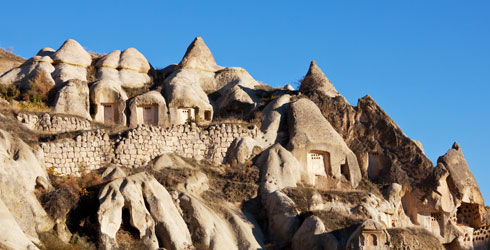 "While stands the Coliseum, Rome shall stand; When falls the Coliseum, Rome shall fall; And when Rome falls -- the world." (Lord Byron)
Archeology Group Trips and Tours
With such extensive and fascinating monuments from antiquity, Europe proves again and again to be a history buff's paradise. Indulge your Indiana Jones' fantasies or complement your academic program's curriculum with go-today. Whether you're traveling as part of a university course study or simply nurturing an interest in ancient history and archeology, we are happy to design a trip for your group to visit Europe's best preserved ruins and prehistoric sites.
For years, go-today has collaborated with universities, high schools, special interest groups and everyday family & friend groups to make cultural enrichment an exciting part of vacation. We work with groups' budgets to arrange accommodation and meals from budget level to first class.
With offices in the United States and in Europe, we regularly collaborate with numerous European private, national and cultural organizations to facilitate speedy access and expert guiding for heritage sites.
There are many sites to see on this trip! Tour the impressively well-preserved ruins at Pompeii to gain an insight into daily Roman life. Visit some of the Roman Empire's most intact arenas in Verona, Italy, Nîmes, France, or Pula, Croatia. See the South of France's mighty Roman aqueduct, the Pont du Gard, explore Athens' famed Acropolis, and visit Tuscany's many tombs from the Etruscan civilization!
Our groups experience the mysteries history firsthand, such as the Stonehenge monument. They tour Neolithic burial chambers in Scotland and Ireland. They see prehistoric cave paintings in the Dordogne province of France. They visit stretches of Hadrian's Wall in the North of England. Whether your group intends to visit the 6th century Christian settlement of Glendalough in Ireland, explore the Valley of the Temples in Sicily, or learn about the Vikings in Scotland and Scandinavia, go-today has the resources, experience, and expertise to assist with all its travel needs.
We offer the following services to make your group's experience in Europe convenient, affordable, cultural, and exciting!
Hotel Accommodation
Airfare Ticketing
Rail Ticketing
Group Meals
Fast-Track Sightseeing Entrances
Specialized Tour Escorts & Local Guides
Access to Europe's Most Significant Heritage Sites
A 24-hour contact based in Europe for emergencies
Travel Insurance
Please contact us by phone or e-mail to discuss how we can create and personalize a European experience for your group. We look forward to hearing from you.
The Eternal City: Rome for History Addicts!
This 7 day, 6 night tour can be appreciated by anyone who loves history, young or old! Therefore, school groups, clubs, families or groups of friends can all likely extract ideas from the suggestions below. While the popular expression goes "all roads lead to Rome," it could just as easily have been "Rome has a zillion monuments." The magnitude of its cultural sites is so immense that it's hard to wrap your head around it. That being said, even a history buff has to make choices in Rome! The itinerary below is based on a 6-night stay in Rome with many of the ancient capital's must-see sights. While the attractions below are plentiful, we recommend striving for a pleasant pace; after all, it is your vacation.
Should you want to extend your historical extravaganza by several days, we recommend you add the following ancient sites in Campania to your itinerary: Pompeii, Herculaneum and Paestum. Alternatively, if you don't mind catching another flight, Sicily is a paradise for history fans and should absolutely be considered for a longer extension.
Highlights
Tour of iconic Colosseum
Walking tour of central Rome's top sights: Piazza Navona, the Pantheon, Campo de' Fiori!
Visit some of Italy's best archaeological sites, including the Roman Forum and Ostia Antic
Spend a morning in the Vatican Museums
Explore the Emperor Hadrian's astonishing villa
Wander Rome's ancient catacombs
View the complete day-to-day The Eternal City: Rome for History Addicts! itinerary.